PRODUCT UPDATES
Student Test Accommodations in Provisioning

In Administration -> Provisioning, the 'Student Test Accommodations' icon is now available for each student.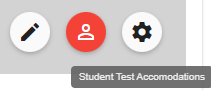 By selecting this icon, users will be able to view the student's test accommodations.

Users can also view a student's Test Accommodations in the student's profile.

Speed Grader for 'Is Scorer' Role
Test Accommodations in Assessment Screen

Teachers can now view students' test accommodations directly in an assessment in the Assessment Center, rather than having to navigate to the student's profile, by selecting the 'Student Test Accommodations' icon next to a student's name.

Logins are Automatically Activated for New Accounts


When a new user is created in provisioning, there is no longer an option to 'Activate New Login'. Once the user is created, the login will activate and the email containing the user's username and temporary password will be instantly queued.
BUG FIXES
Fixed: Student 'Help' sending to Student Resources instead of the main support site