FocalPoint - AssessCloud
New
New Modern User Interface
FocalPoint is committed to ensuring that every user has a great experience using FocalPoint. That's why we have a team of usability experts dedicated to finding ways to continually improve the experience for our users. Today we are excited to announce a few enhancements this team has made that improve user experience and efficiency.
First, we've updated the look and feel of the system with a new font and styles. These new styles are not only pleasing to the eye but are designed to make it easier and more efficient to navigate the system. For example, tables are no longer surrounded by dark frames which can distract from the data in those tables, new fonts draw the eye to the data that matters most, and new button styles and colors highlight the next step a user should take to advance their workflow.
Please encourage your users to upgrade to new UI. All the users will be migrated to the new UI on April 15th if they haven't made the upgrade.
Please click on the tab "Update to New UI"(as shown in the screenshot below) to switch to the new User Interface.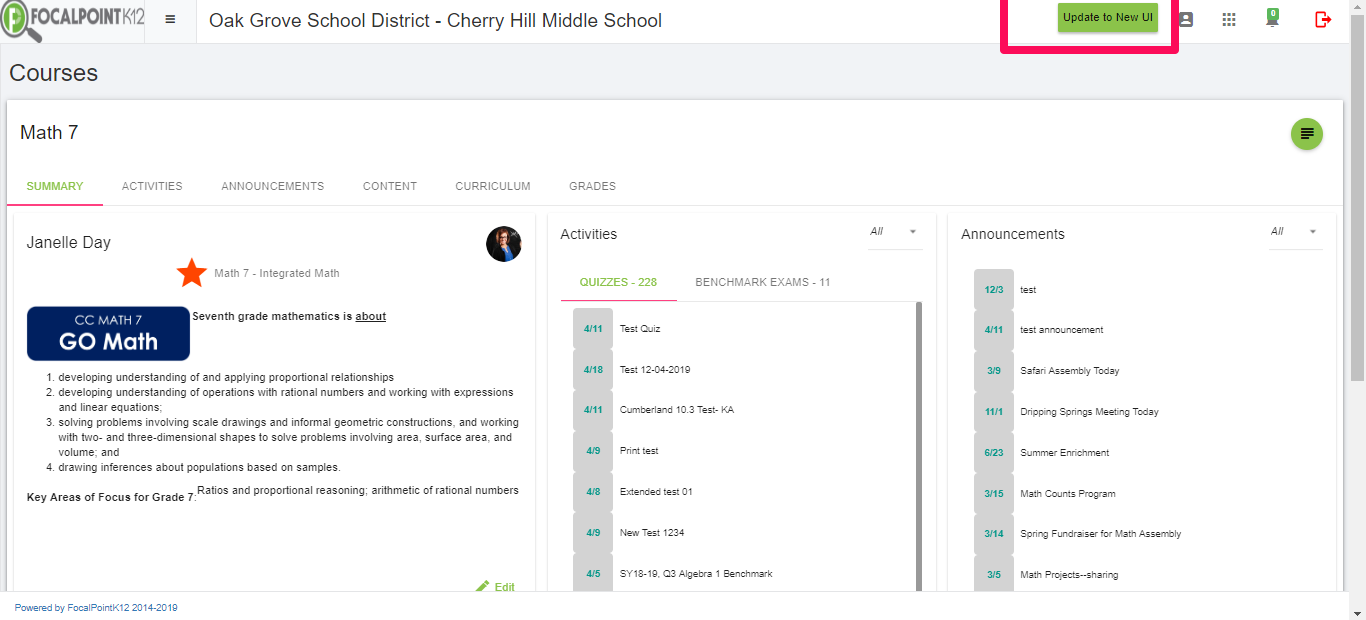 New User Interface for Teacher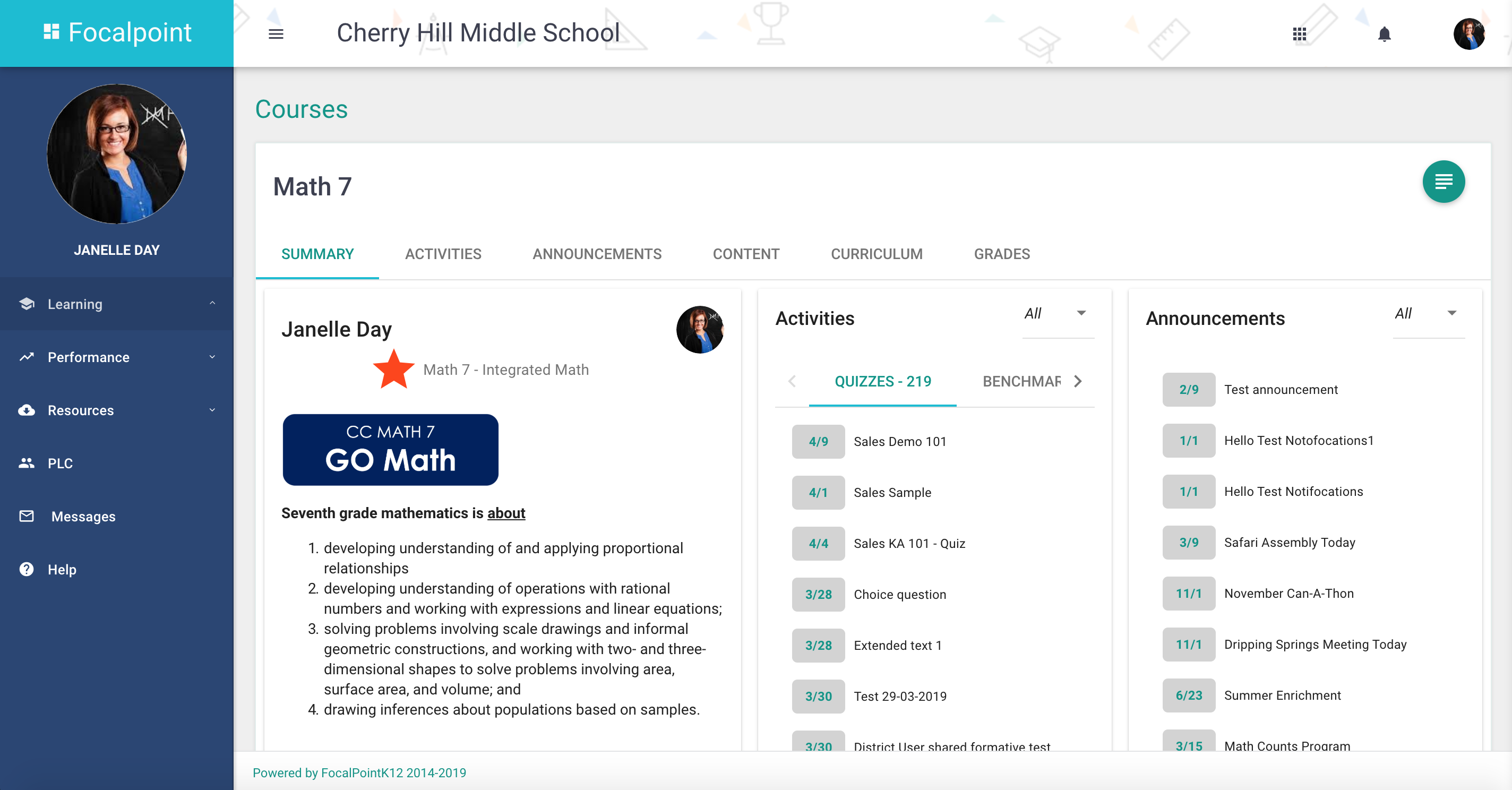 Switch back to Classic View
Users have the option to switch back to the Classic View if they choose to. This option is not going to be maintained with future releases and will be decommissioned by the end of April 2019.
To switch back to the Classic View, click on the top right user image, select Classic option from the list.

Teacher Select Courses List
Teachers can select the courses from the course list; the course list is available on the right-hand side of the course tile. Teachers have the option to click on the checkbox of the course list to bring the course to the top of the list.

Teacher Course Content Edit
Teachers can personalize the Course Summary section with their own content. Click Edit at the bottom right of the summary tile and make it your own.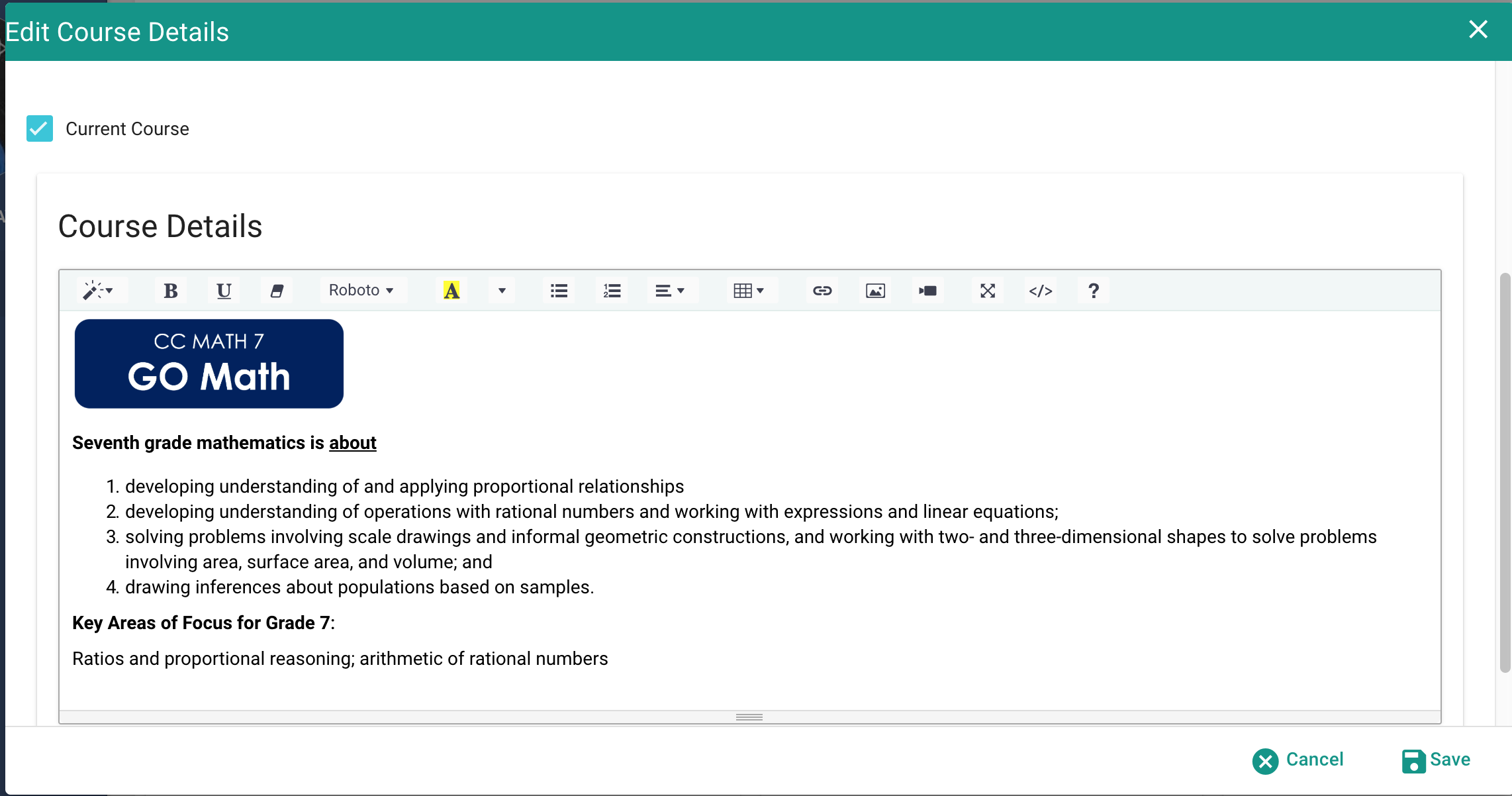 Filter Option to Performance Assessment Report
Additional filter option has been added to the Performance Assessment Report. Users can filter data by School, Year, Classroom, Teacher, Course. Additional filtering and sorting can be accomplished by clicking on the column header on the table.

New Look and Feel for Comparision Tool
New enhanced look and feel have been added to the comparison tool. Users can easily filter the data sets with the faceted filtering and able to compare them easily. Give it a shot, we think you will like the new interface.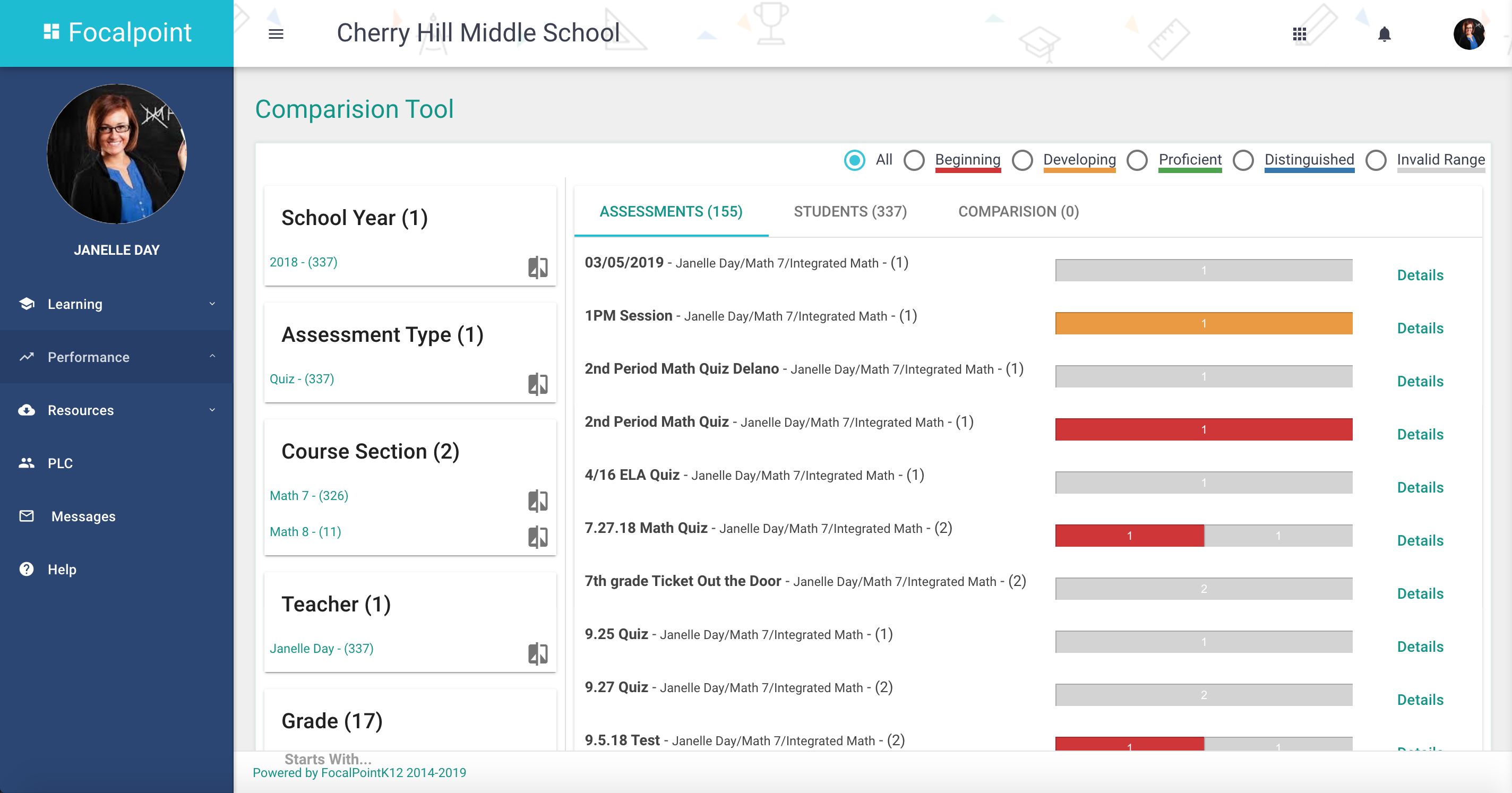 Teacher Impersonation Feature
Administrators can assign substitute/support teachers to be able to impersonate the teachers and access the classroom activities and reports. This can be done in the provisioning menu by adding the substitute/support teacher to impersonate the teacher.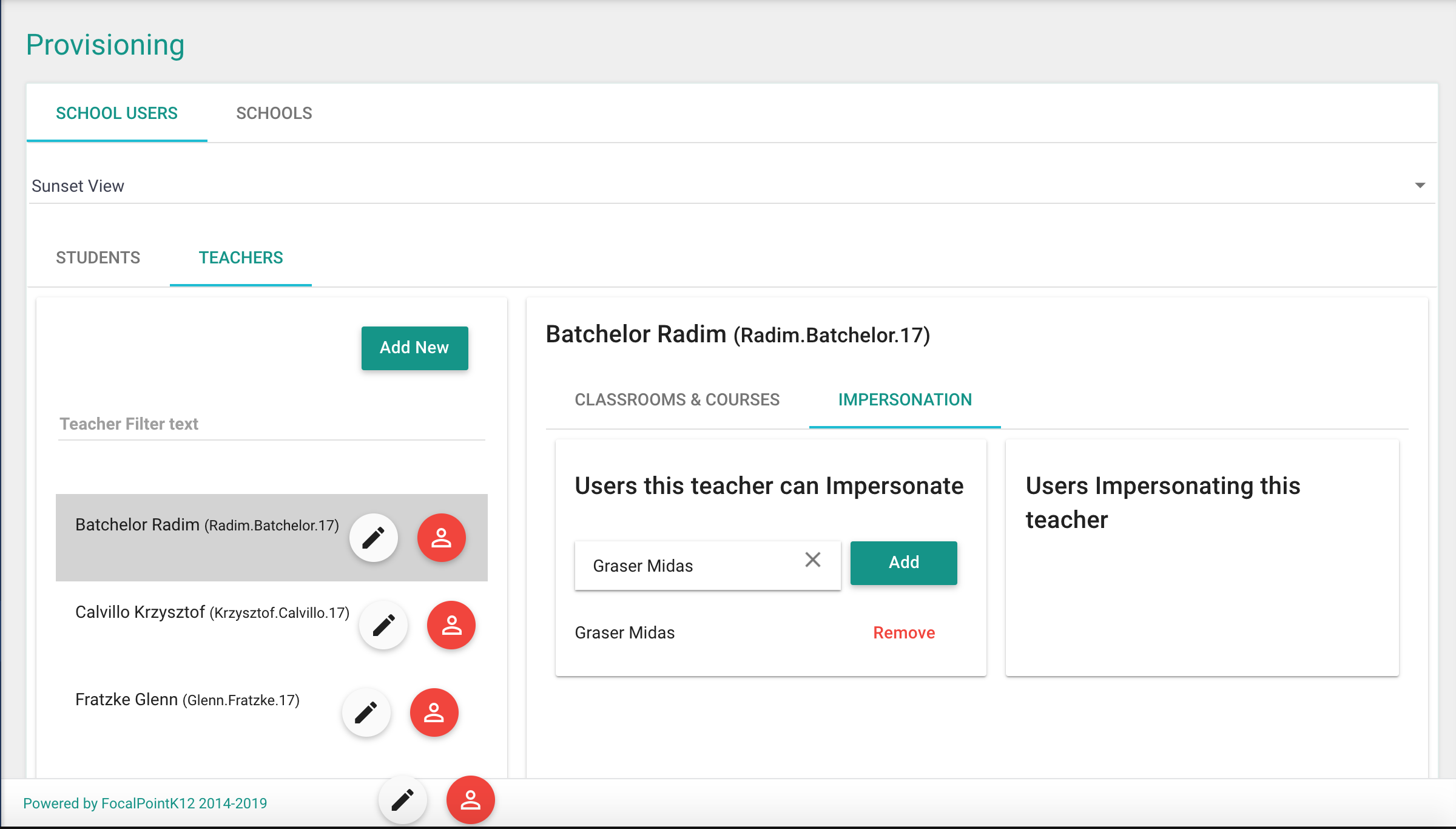 Fixed
There were no fixes this week.
NOTE:
There were no changes to FocalPoint Lens, ContentCloud, Communities, and LearningTree this week.