The FocalPointK12 platform provides role-based security access to the users in a tenancy. All the application user identities and roles are carried forward from the customer Student Information System or Identity Providers such as Active Directory or LDAP. The platform supports several identity frameworks and Single Sign-On (SSO) protocols based on customer needs.
Supported security protocols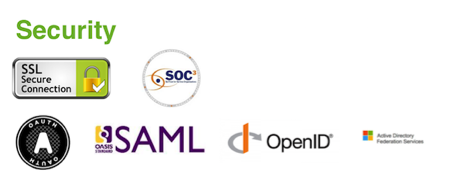 Privacy
The FocalPointK12 platform conforms to FERPA and Student Data Privacy policies. The security model of the platform is role-based, and provides secure access to only the information that the user has "an educational need to know."
FocalPointK12 is committed to safeguarding student and educator privacy and that is why FocalPointK12 has signed the Student Privacy Pledge and is listed on the following webpage: https://studentprivacypledge.org/signatories/
FocalPointK12 does not partner with any external vendors who will have access to the collection or housing of data. FocalPointK12 does not absorb any ownership of any student-level data collected from the district or users. FocalPointK12 uses the Microsoft Azure platform, which provides unsurpassed levels of security and privacy when storing data as well as complying to FERPA and any PII data.
Supported security badges