When viewing a launched Portfolio Assignment, students have multiple options.
In the 'Text Entry' box, students can enter and format text. It is suggested to enter and format any text directly into the text box, rather than copying and pasting from an external source.

To save progress in the text box, select 'Save Text Entry'.

To attach a document, select the plus sign next to 'ATTACHED DOCUMENTS'.

Students will have the option to attach a document from their device, or to attach a Google File.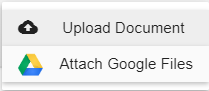 To submit anything for teacher review, select 'Submit for Review'. This will allow the student to continue working, attach documents and submit.

To submit the assignment for scoring, select 'Submit Assignment'. This will change the assignment's status to submitted, and will no longer allow the student to work in the text box, attach documents, or submit again.