From your Menu, as shown below, select 'Administration'.
From the drop-down list that appears, select 'Provisioning'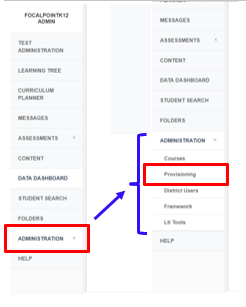 From the initial Provisioning screen, use the drop-down menu on the right to select the desired school.

Once you have entered the desired School, click on 'Teachers'.
Then, click '+ Add New'.

Complete the necessary information for your new School User.
If you are designating the user as one of your select number of School Administrators, check the 'is School Admin' box and click 'Save'.
If you are creating a School User, do NOT check the 'is School Admin' box. Bypass that step and click 'Save'.

Once you return to this screen, you can search for your new user as shown below.